Advance Reviews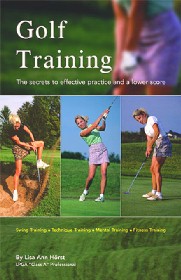 Golf Training will positively transform your golf game. Lisa Ann Hörst combines current scientific findings from kinesiology and sport psychology with years of experience as a golf pro to deliver a fresh approach to performance improvement. Here is a cohesive program for self-assessment and progressive change. I'm particularly taken with Golf Training's brilliant coverage of sport psychology's best-kept secrets, including methods for improving motivation, confidence, visualization, fear management, anxiety control, concentration and focus, and performance rituals. It's all here in a beautifully written and illustrated book that will help you gain a competitive edge.
--Richard K. Fleming, Ph.D.
Asst. Professor of Psychology & Researcher in Behavior and Performance, University of Massachusetts Medical School
---



Golf Training is a tour de force of simple but effective techniques to improve any aspect of your game. If you want to make a commitment to change, this is a manual for taking your game to the next level.


--Dr. Joseph Parent
Author of the best-selling Zen Golf: Mastering the Mental Game and PGA Tour Instructor
---



Golf Training is not a book full of promises. It is a book for golfers who have made promises to themselves and are now ready to keep them. If you're just learning golf, this book is invaluable. If you're already a strong player, Lisa Ann challenges you to get even more from all levels of your game. This is the most comprehensive "guide to better golf" that I have seen.


--Tom Ferrell, author and golf journalist, founder of OnTour Media, Inc
---



Golf Training reveals that there is much more to being a great golfer than having a perfect swing. Lisa Ann Horst covers all aspects of the game including swing fundamentals, tips on how to practice, and mental and fitness training that will enable you to become the best player you can be. Anyone who really wants to improve their game can learn a lot from this book.


--Karen Palacios-Jansen, LPGA Teaching Pro, Golf For Women Top 50 Instructor, and Developer of Cardiogolf
---



I like

Golf Training!

It is very well written, clear, and interesting, and it contains much new information. But the main thing that attracted me was the attention to the principles of learning that come from the scientific area of motor learning.

My experience with most other books on sport is that they are not written from a scientific perspective. Most such books are based either on best guesses about how to practice, how the author was taught, or how some famous professional player practices. The problem with such an approach is that many proven principles of practice are somewhat counterintuitive, and they are certainly different than what a common-sense understanding of practice would predict. Furthermore, many coaches and writers tend to resist these scientific principles, as they are apparently uncomfortable with these newer generalizations.

Golf Training pays strong attention to the scientifically based principles of practice. In fact, Lisa Ann Horst devotes an entire chapter to the principles of practice as a kind of "bedrock," and then refers to these in the remaining chapters as justification for what she recommends for practice. I find these ideas to be current, the choice of principles carefully selected, and the applications to the game of golf appropriate. This is certainly a refreshing trend, and the book should be effective for one who is serious about learning the game.


--Dr. Richard Schmidt, President, Human Performance Research, Author of Motor Learning and Performance, and Professor of Psychology at UCLA
---
Order a signed copy from the Author!


Click here to view numerous sample pages!
Or, if you live in the United States, you can order online with your credit card using my PayPal order form (click the "Buy Now" icon).
You can also Order GOLF TRAINING from Amazon.com (no author signature)